Dina Universal Video Game System.
Bit Corporation's Dina 2 in one.
People say it was Tsukada that original producing Othello Multivision, and SG 1000 also was the man behind Bit Corporation's Dina 2 in 1.
It was probably a simply Bit Corporation redesign of the original Chuang Zao Zhe 50.

The ColecoVision clone was in 1986 brought to North America by the American company Telegames.
Telegames changed the name to Telegames Personal Arcade, which could run ColecoVision and Sega SG 1000 games.
Dina was a redesigned version of the first version called Personal Arcade.
Personal Arcade was a lot less than ColecoVision, it had not the clumsy Joysticks, but instead a few small spruce joypads a la Nintendo.
Behind the Personal Arcade is an expansions port, but Dina's configuration do that they will not use colecoVisions own equipment such as Turbo module.
But rumors will know that it might be possible to connect the Atari converter.


RF Out - Power - Joystick 1 and 2 - Expansionsport.

You could get a Dina via mail order for $ 40, - in the mid 80's.
If you decide to buy you a Dina today, it can sometimes recruited on e-bay.
It is also said that Dina would work fine on both TV systems, PAL and NTSC.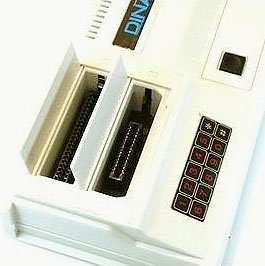 As seen in the image above.
There are 2 cartridges ports for both Sega SG-1000 and ColecoVision games.

Dina had a built in game, -Meteoric Shower from just the maker BIT Corp.
Meteoric Shower exist in a original Cartridge from 1983 with production number PG 903.
The cart is use for Bit 90 and ColecoVision and this game are extremely rare.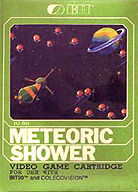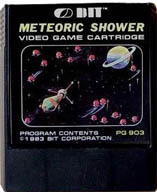 The whole Telegames' stock of Dina 2 in 1 smoke for a stroll when a tornado crossed the spot in 1994.
Therefore are The Dina/Personal Arcade extremely rare and viewed for sale for several $, -on ebay.

| | |
| --- | --- |
| | |
| Personal Arcade | Dina 2 in 1 |
Bit Corporation's BIT 60 og BIT 90.
The Taiwanese company Bit Corporation, was known as one of the biggest games copy pirates in the world.
They produced cloned machines and cartridges of the known, Nintendo, Sega, Atari and ColecoVision.
They even made their own little compact ADAM Computer, Bit 90.
Bit 90 was actually a Sega SG 3000 clone, but could easily run ColecoVision games.
With the adaptor on the back could Bit 90 also phase out the Atari 2600 games.
Technically, was Bit 90 equal to ColecoVision and very close to the real MSX 1 standard.
On the other hand, was Bit 60 an Atari clone who could settle the Atari 2600 games. Bit 60 was technically an Atari 400.




Newest clone found is this Chinese ColecoVision clone called "Follow Me".
The clone was made back in the 80's by a company named Enkun.
The system will not work on any western tv system.
Note the cartridge is pictured Mr. Do!, but could in fact contain more games than the displayed image.

The Nintendo styled controllers do not offer any severity.



The switch in the middle of the console says either player 1 or 2.
The hardware in the clone detects the following numbers 1 and 5.
If you wanna play a 2 player game, just set your switch in 2 - play before turning the game on.
The hardware detects now number 5 for a 2 player game.



Another clone was this Onyx, it was produced in Brazil and designed for their market.
You could get the Onyx Video Game Console in two colors, offwhite and millitary green.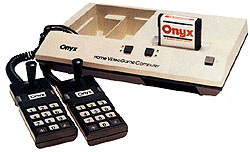 Another ColecoVision clone, also from brazil was this one.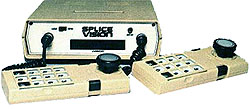 SpliceVision looks more primitive in comparison with the ONYX.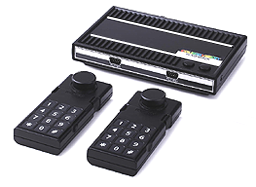 ColecoVision Flashback is based on Plug 'n Play.
You have no cartridge port for real physical ColecoVision games.
This unit have 60 ColecoVision games built in.
Last updated: May 03. 2014.