" The ONLY ColecoVision system you will EVER need! "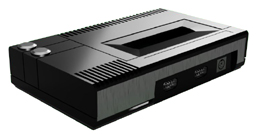 A reimagining of the greatest arcade quality video game system of all time.

Engineered with an FPGA., no emulation, total accuracy!
It is the definitive way to revive the ColecoVision's 8-bit era.

100% accurate and compatible with ALL ColecoVision game cartridges!

Explore and re-live the greatest arcade quality video game system with no compromises.



CollectorVision Phoenix Video Game System:




Dimensions:

7.50″ wide = 19 cm.
4.75″ depth = 12 cm.
1.70″ high = 4 cm.
Final Case design subject to change.



Technical Specifications:

Currently unavailable.


Compatibility:

Compatible with ALL ColecoVision™ game cartridges.
Region Free: NTSC and PAL Tv. Systems.
Worldwide Compatibility Power Supply: 100-240V., 50-60Hz.
SGM™ built in the system, it will play all your Super Game Module™ games Officially licensed by Opcode Games.
For SGM alone is this a value in itself for about $ 100,-


Video:

HDMI Output. (Upscaled Digital SD signal).



Audio:

Digital audio via HDMI.
The SEX7289 "COURTNEY" Wavetable Sound Generator (WSG) is an new custom sound chip which can produce a rich plurality of sounds with minimal intervention of the CPU.
COURTNEY implements 2 operating modes.

A native mode which features wavetable synthesis, the same sound technology of the Konami SCC, Namco Pac-Man, NEC PC Engine and Waldorf PPG Wave.
And a legacy mode which is 100% compatible with the AY-3-8913.

COURTNEY's register-based interface is based on the AY-3-891x series, allowing direct binary-level compatibility with that series, and facilitating the support of the new features to the programmer.

Native mode also adds extended parameter ranges such as full 8-bit noise frequency (for more dramatic explosions).
Stereo positioning and a direct DAC mode, allowing clean, single channel 8-bit PCM sample replay without having to combine all 3 channels in a complex manner.

The native mode also allows better lo-fi speech synthesis and digital audio -using technologies such as Wyz's ISR sample replay- by employing pure harmonic-free sine waves instead of square waves.



Special Features:

F18A Video Enhanced Compatibility Built-in, a value in itself for about $ 86,-
Original-style ColecoVision™ (DB-9) Controller Ports.
Original-style SNES/SFC Controller Port for even more controller compatiblity! (NTT Data compatible).
SD card firmware updating via ColecoVision SD card slot.
PS2 Keyboard input.


Other Features:

5+ digital Homebrew games included.



Includes:

1 CollectorVision Phoenix Video Game System™
1 Sydney Hunter & the Caverns of Death, Exclusive pack-in Game cartridge, value $ 50,-
1 Instruction Manual.
1 HDMI Cable.
1 Worldwide USB Power Supply: 110-240v, 50/60hz, USA/JPN/EU plug-type.

No Controllers included.
CollectorVision Games prefer to focus first and foremost on the console itself and make it completely right.
Although the console is already compatible with original ColecoVision™ controllers, NTT and any DB-9 Controllers out there.



Expansion Module Port:

A variety of expansion modules will be released after console launch, which will including a brand new Spinner Controller and new designed hand Controllers.
More information on these will be provided later.

Loading rom files off the SD card is available.

A target price would be $ 200,-
CollectorVision Games understand it may not be for everyone out there, they also think there's more than enough ColecoVision™ fans out there willing to make a project like this to happen.
CollectorVision Games knows the potential and need for a console like this to happen.
Not mentionning how poor and unreliable the original ColecoVision™ console is.
It would most likely going to cost you about $ 300,- to get similar results compared to the CollectorVision Phoenix Video Game System, and that doesn't even make your system 100% reliable.


---===---

The CollectorVision Phoenix Video Game System is made and manufactured by: CollectorVision Games Inc. U.S.A. / Canada.
The Super Game Module™ and Logo is a trademark of Opcode Games and used under license to CollectorVision Games Inc.

The CollectorVision Phoenix Video Game System is made and manufactured by: CollectorVision Games Inc.

CollectorVision Games Inc. supports the former toy giant Coleco Industries, and is in no way affiliated with RWB.


© 2016 - 2018 CollectorVision Games Inc.


Detailed documents and instructions will be available later for developers.
Functionality will also be added to the Lilith Emulator.


Release:

More details will be revealed with the Kickstarter launch later in 2018.
Phoenix will be released before Prometheus Lite.
More to come...

Officially announced by: CollectorVision Games, and reproduced by ColecoVision.dk from 2016 to 2018.

Last updated:

August 18, 2018.
August 15, 2018.
August 12, 2018.
August 06, 2018.
August 05, 2018.
July 30, 2018.
July 27, 2018.