Roller Controller is now removed, and a new design for the Control panel will be updated.
Latest: I will redesign my control panel for my ColecoVision Arcade, and instead of the Roller Controller will I use the upcoming Spinner Controller from CollectorVision Games later in 2019.
The new CollectorVision Phoenix Video Game System will ColecoVision.dk replace the Original French CBS Scart ColecoVision Game System.
But there is no analog Audio out from Phoenix to my Speakers.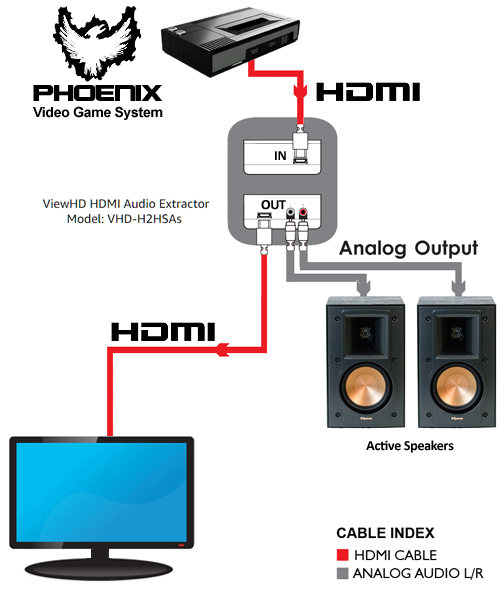 So I found a solution on the Internet, I simply need an Audio Extractor.
I will have to remove my RGB Scart cable, which instead should be replaced with 2 new HDMI cables.
Also removed will be my old 4:3 Samsung Monitor.
As you can see on the picture below, my ColecoVision is heavily modified.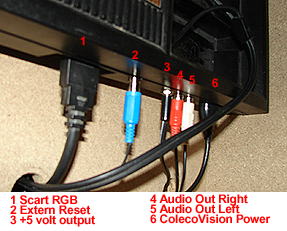 Scart RGB cable will be removed.
Extern Reset will be moved to the new CV Phoenix.
+5 Volt out will be removed.
Audio left and right will be removed to the new Audio Extractor box.
No need for ColecoVision power supply, and the old French ColecoVision for now.


For my RCA / Phono analog Audio out.
HDMI pass through.
The box needs power +5V.
For my new 2019 project will I use the same Arcade Cabinet, but a new Control panel.
One new Console, this time the Phoenix Video Game System.
This system can take original ColecoVision game cartridges as well as games on SD card.
The new syatem is an FPGA based system and can playback almost all ColecoVision games plus a lot of Atari 2600 games via SD.
I will also use another TV as an Monitor. (Scart / VGA / RF / HDMI / RGB)
My old Samsung 4:3 had no HDMI connector.
So I will use my other 16:9 24" Samsung which have HDMI and all other things input, but no Audio output.
So with the Audio Extractor from ViewHD will I could take the audio direct to my Subwoofer mounted in my ColecoVision Arcade, which is connected to the upper Speakers.
When I have the details for the new CollectorVision Games Spinner Controller, then will I start up my new Control Panel design.
2020.
No it didn't work.
The Phoenix console need an output update via HDMI, so the sound can work seperate together with the Audio Extractor.
So for now I have the sound from my 24" Samsung Tv. in the cabinet which I think it's not optimal.
A solution I will try is an HDMI to VGA adaptor which also have the analog audio output.
The signal is HDMI in and VGA out.
My 24" Samsung Tv. can handle VGA too.
[ picture on the way soon ]
There is no news regarding the Spinner Controller, but a working unit exist as you can see on the picture below.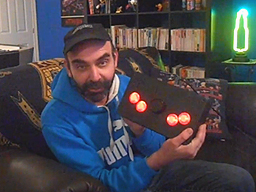 I have already designed my new updated Control Panel with the spinner on.
And on the picture below is also mounted 2 seperate pushbottons for the Spinner.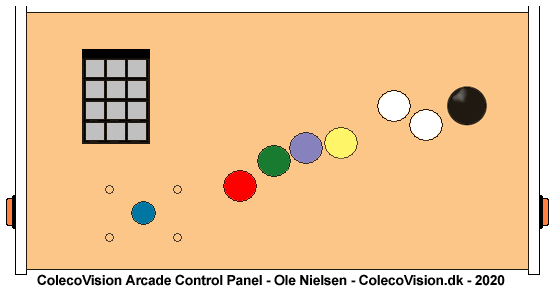 So my new Control Panel "looks" like an Pandora's Box, but it's not.
I have now changed it to only 1 player.
1 - ColecoVision keypad.
1 - Joystick.
8 - Pushbottons.
1 - Spinner Controller
I will work on this again from May / June 2020.